Supporting the essential workforce
Rosco is part of the manufacturing supply chain for many essential markets including emergency and rescue, military, commercial bus, truck/van, and school bus. From last mile delivery of North America's most precious cargo… our children and students, to life critical supplies and food, Rosco's vision products make the driving environment safer.
Over a Century of Automotive Vision Safety
Rosco has been a U.S. manufacturer in New York since 1907. Today, Rosco is the largest manufacturer of bus mirrors in North America with a staff of over 250 employees.
Eye-Max® LP — the next step of cross view mirrors
Eye-Max® LP with its unique asymmetric mirror lens surpasses the New York State Law Requirement per S3151-2011.
Safety solutions for commercial markets
Our products include critical driving aides such as mirrors, sun visors, cameras, sensors, collision avoidance systems, and recording devices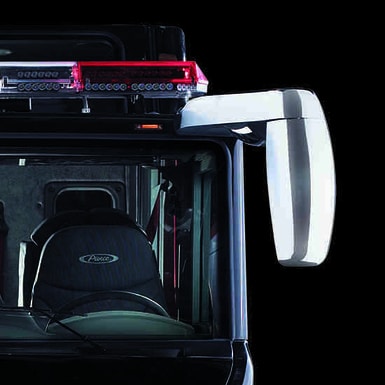 Rosco is the nation's leading manufacturer of mirrors for the school bus industry. We provide mirrors for a wide range of commercial vehicles, including trucks, buses, vans, specialty vehicles, military vehicles, industrial equipment and more.
Please visit www.roscovision.com to view our digital product line including cameras, monitors, sensors, and recording products.
learn more about us