Walk-in / Cargo Van
Rosco Walk-in and Cargo van mirrors lead the industry with the newest in cutting edge designs.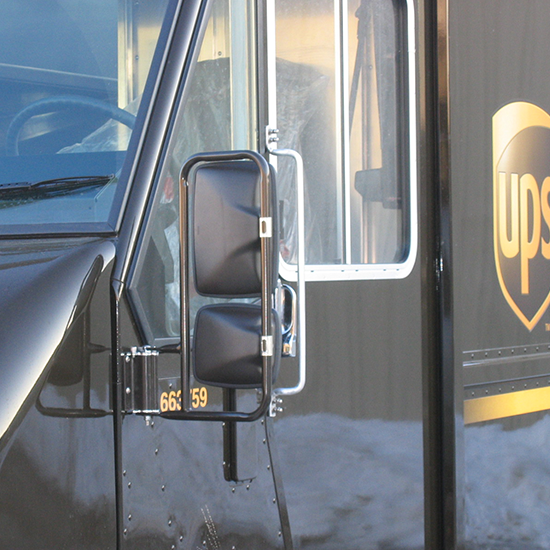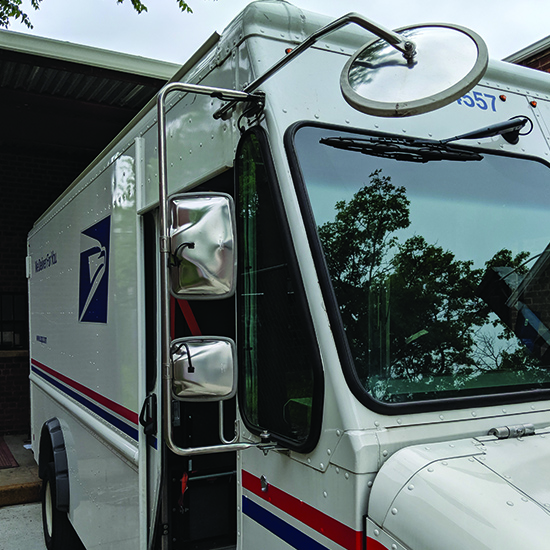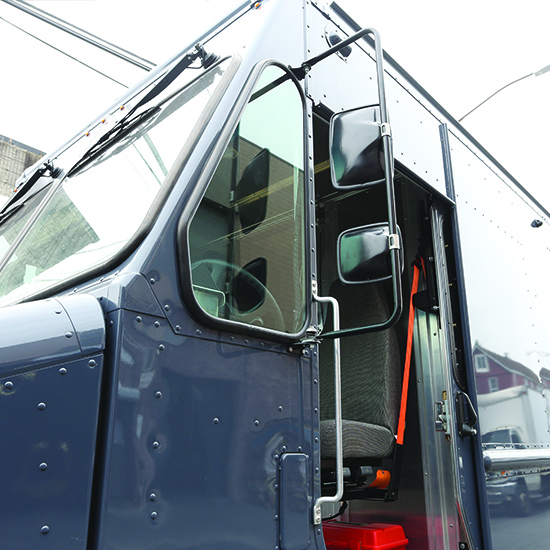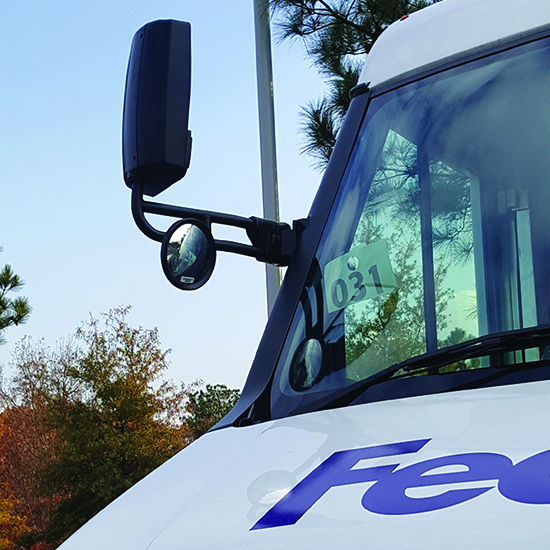 NEW FORD TRANSIT CONNECT REARVIEW MIRROR SYSTEM
Rosco's new TC Dual Rearview Door Mirror System was designed specifically for Ford Transit Connect vehicles. This system offers a generous mirror viewing area on two separately adjustable mirror heads allows drivers to optimize mirror angles and locations to cover all blind spots and danger zones. Offering more than 50% more viewing surface area than standard mirrors, the TC Dual Rearview Door Mirror System will provide drivers enhanced safety through all maneuvers and operations. The wider field of view and the exceptional stability allows the mirrors to provide a clear image of the passing lanes and blind spots around the vehicle leading to improved safety and faster driver reaction time.
Rosco also offers traditional walk-in van "Loop" style mirrors, and cargo van side window or "Sail" mount mirrors in models such as AccuStyle and EuroStyle, offering a variety of larger mirrors than typical OEM mirrors, but with many more options such as remote control, dual lens, heat, LED signal light, and long mirror arm lengths for wide vehicles and bodies. The ReBound rear cross view mirror system for Walk-in vans can be found in the "Mirrors by Rosco Style" section of this web-site, while standard rear cross view mirrors for all vans can be found below.
| Loop Mirrors and Systems | |
| --- | --- |
| PART NO | DESCRIPTION |
| 6651RB | Transit Connect Right Side Rearview Mirror System |
| 6651LB | Transit Connect Left Side Rearview Mirror System |
| 3805SSPW | Transit Connect Rear-Cross View Mirror System |
| 660/1 | 6-1/2"x6" Replacement Glass, Flat |
| 660/2 | PVC Rim Replacement for 660 Series Mirrors |
| 660D/1 | 6-1/2"x6" Replacement Glass, Convex |
| 1001D | PVC Rim Replacement for 660 Series Mirrors |
| 660DSSP | 6-1/2"x6" Convex Mirror, Stainless Steel |
| 660DW | 6-1/2"x6" Convex Mirror, White Powder Coat (Black also avail. 660DB) |
| 660SSP | 6-1/2"x6" Flat Mirror, Stainless Steel |
| 660W | 6-1/2"x6" Flat Mirror, White Powder Coat (Black also avail. 660B) |
| 6610/1 | 6-1/2"x10" Replacement Glass, Flat |
| 6610/2 | PVC Rim Replacement for 6610 Series Mirrors |
| 6610SSP | 6-1/2"x10" Flat Mirror, Stainless Steel |
| 6610W | 6-1/2"x10" Flat Mirror, White Powder Coat (Black also avail. 6610B) |
| 6620FLW | 6-1/2"x6" Flat and 6-1/2"x6" Convex, Double Mirror Sys. For Ford Econoline, Left, White |
| 6620FRW | 6-1/2"x6" Flat and 6-1/2"x6" Convex, Double Mirror Sys. For Ford Econoline, Right, White |
| 6620FSSL | 6-1/2"x6" Flat and 6-1/2"x6" Convex, Double Mirror Sys. For Ford Econoline, Left, Pol SS |
| 6620FSSR | 6-1/2"x6" Flat and 6-1/2"x6" Convex, Double Mirror Sys. For Ford Econoline, Right, Pol SS |
| 6620SSPL | 6-1/2"x6" Flat and 6-1/2"x6" Convex, Double Mirror System, Left, Polished SS |
| 6620SSPR | 6-1/2"x6" Flat and 6-1/2"x6" Convex, Double Mirror System, Right, Polished SS |
| 6621LB | 6-1/2"x10" Flat and 6-1/2"x6" Convex, Double Mirror Sys., Left, Black |
| 6621LW | 6-1/2"x10" Flat and 6-1/2"x6" Convex, Double Mirror Sys., Left, White |
| 6621RB | 6-1/2"x10" Flat and 6-1/2"x6" Convex, Double Mirror Sys., Right, Black |
| 6621RW | 6-1/2"x10" Flat and 6-1/2"x6" Convex, Double Mirror Sys., Right, White |
| 6621SSL | 6-1/2"x10" Flat and 6-1/2"x6" Convex, Double Mirror Sys., Left, Polished SS |
| 6621SSR | 6-1/2"x10" Flat and 6-1/2"x6" Convex, Double Mirror Sys., Right, Polished SS |
| 6640LASABR | 6-1/2"x10" Flat and 6-1/2"x6" Convex, Double Mirror Sys., Left, Brown Plastic, 20.25" Arm OD |
| 6640LSSPFH | 6-1/2"x10" Flat Htd. & 6-1/2"x6" Convex, Double Mir.Sys., Left, Polished SS, 20.25" Arm OD |
| 6640RASABR | 6-1/2"x10" Flat and 6-1/2"x6" Convex, Double Mirror Sys., Right, Brown Plastic, 20.25" Arm OD |
| 6640RSSPFH | 6-1/2"x10" Flat Htd. & 6-1/2"x6" Convex, Double Mir.Sys., Right, Polished SS, 20.25" Arm OD |
| 6641LSSPFH | 6-1/2"x6" Convex & 6-1/2"x10" Flat Htd., Double Mir.Sys., Left, Polished SS, 20.25" Arm OD |
| 6641RSSPFH | 6-1/2"x6" Convex & 6-1/2"x10" Flat Htd., Double Mir.Sys., Right, Polished SS, 20.25" Arm OD |
| 6642LPBR | 6-1/2"x10" Flat and 6-1/2"x6" Convex, Double Mirror Sys., Left, Brown Plastic, 22.25" Arm OD |
| 6642RPBR | 6-1/2"x10" Flat and 6-1/2"x6" Convex, Double Mirror Sys., Right, Brown Plastic, 22.25" Arm OD |
| Loop Mirrors and Systems | |
| --- | --- |
| PART NO | DESCRIPTION |
| .0797SSP | 8" LOW DOME ACRYLIC REPLACEMENT MIRROR HEAD, BLACK |
| .0797W | 8" LOW DOME ACRYLIC REPLACEMENT MIRROR HEAD, WHITE |
| .0740B | 8" LOW DOME ACRYLIC REPLACMENT MIRROR HEAD, STAINLESS STEEL |
| .0740SSP | 11" ACRYLIC REPLACEMENT MIRROR HEAD, BLACK |
| .0740W | 11" ACRYLIC REPLACEMENT MIRROR HEAD, WHITE |
| .0797B | 11" LOW DOME ACRYLIC REPLACEMENT MIRROR HEAD, STAINLESS STEEL. |
| 3740B | VANGUARD REAR TRIPOD MOUNT, 8" LOW DOME, ACRYLIC, BLACK, FOR DODGE, FORD, and PRE '97 GM |
| 3740W | VANGUARD REAR TRIPOD MOUNT, 8" LOW DOME, ACRYLIC, WHITE, FOR DODGE, FORD, and PRE '97 GM |
| 3740SSP | VANGUARD, REAR TRIPOD MOUNT, 8" LOW DOME, ACRYLIC, STAINLESS STEEL, FOR DODGE, FORD, and PRE '97 GM |
| 3741B | VANGUARD REAR TRIPOD MOUNT, 8" LOW DOME, ACRYLIC, BLACK, FOR POST '97 GM |
| 3741W | VANGUARD REAR TRIPOD MOUNT, 8" LOW DOME, ACRYLIC, WHITE, FOR POST '97 GM |
| 3741SSP | VANGUARD REAR TRIPOD MT., 8" LD., ACRYLIC, STAINLESS STEEL, FOR POST '97 GM |
| 3797B | WALK IN TRUCK REAR MOUNT, 11" LOW DOME, ACRYLIC, BLACK |
| 3797W | WALK IN TRUCK REAR MOUNT, 11" LOW DOME, ACRYLIC, WHITE |
| 3797SSP | WALK IN TRUCK REAR MOUNT, 11" LOW DOME, ACRYLIC, STAINLESS STEEL |
| 3798SSP | WALK IN TRUCK REAR MOUNT, HORIZONTAL RETRACTION SWING, 11" LOW DOME ACRYLIC, STAINLESS STEEL |
| 3799SSP | WALK IN TRUCK, HIGH ARM REAR MOUNT for SWING DOORS, HORIZONTAL RETRACTION SWING, 11" LOW DOME ACRYLIC, STAINLESS STEEL |
| 3800SSP | WALK IN TRUCK SIDE MOUNT, AUTO RETURN BREAKAWAY SYSTEM, 11" LOW DOME, ACRYLIC, STAINLESS STEEL - REBOUND MIRROR |
| 3802SSP | WALK IN TRUCK REAR MOUNT, AUTO RETURN BREAKAWAY SYSTEM, 11" LOW DOME, ACRYLIC, STAINLESS STEEL - REBOUND MIRROR |