Rebound®
Rear bumper crossviewing has never been so maintenance free… Our patented spring loaded auto-return mechanism mitigates damage and brings your mirror back to it's original position after an impact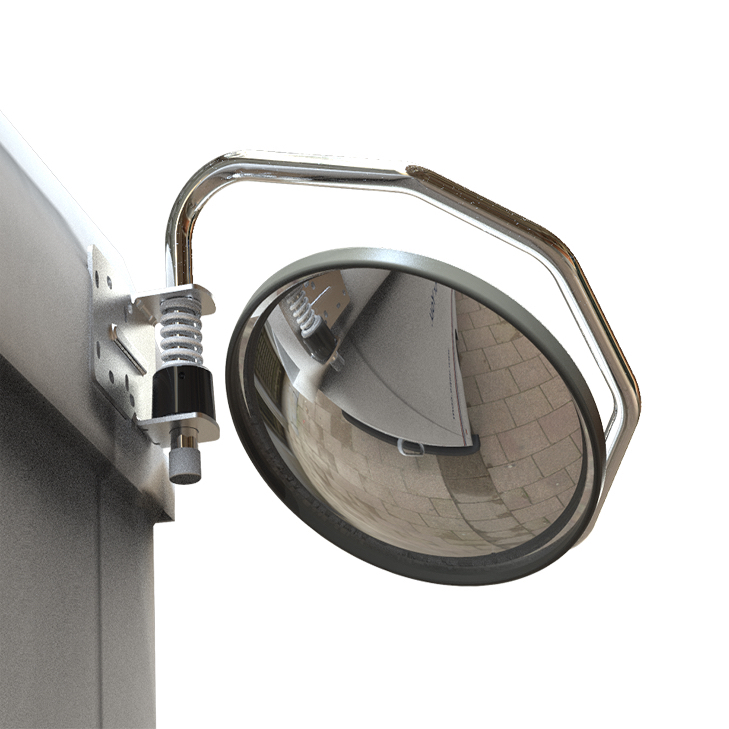 ReBound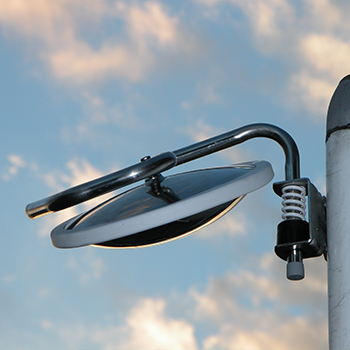 ReBound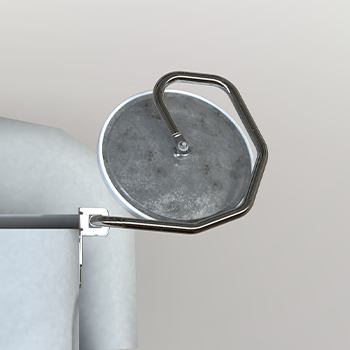 ReBound Mirror Top View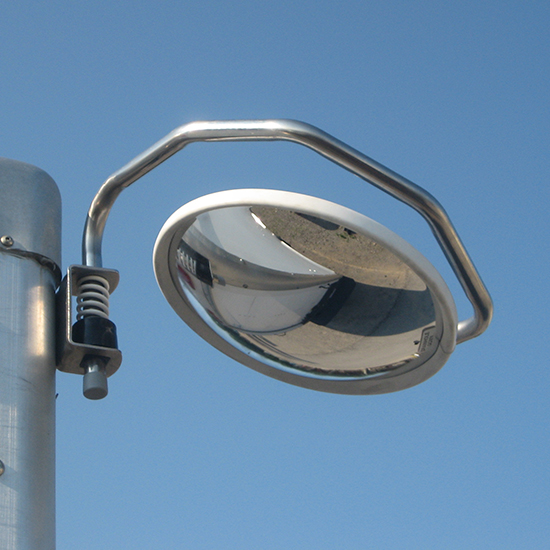 ReBound




The Rebound™ Mirror has a patent-pending spring loaded auto-return mechanism. This system brings the mirror back to its original position after an impact with another object.
Standard mirrors can get damaged upon impact and require adjustments.
High mounting position can lead to driver injuries during readjustment.
Pedestrians and property are in danger while mirrors remain unadjusted.
Automatic return mechanism keeps the mirror properly adjusted and functions in forward or reverse.
Heavy-duty construction withstands impacts and reduces breakage.
Contoured mirror arm protects the large 11" dia., mirror head.
Made in the U.S.A. from heavy-duty aluminum and polished stainless steel.
| Rebound® Rear Cross View Mirrors | |
| --- | --- |
| PART NO | DESCRIPTION |
| 3800SSP | WALK IN TRUCK SIDE MOUNT, AUTO RETURN BREAKAWAY SYSTEM, 11" LOW DOME, ACRYLIC, STAINLESS STEEL - REBOUND MIRROR |
| 3802SSP | WALK IN TRUCK REAR MOUNT, AUTO RETURN BREAKAWAY SYSTEM, 11" LOW DOME, ACRYLIC, STAINLESS STEEL - REBOUND MIRROR |
| Standard Rear Cross View Mirrors | |
| --- | --- |
| PART | NO DESCRIPTION |
| .0740B | 8" LOW DOME ACRYLIC REPLACEMENT MIRROR HEAD, BLACK |
| .0740W | 8" LOW DOME ACRYLIC REPLACEMENT MIRROR HEAD, WHITE |
| .0740SSP | 8" LOW DOME ACRYLIC REPLACMENT MIRROR HEAD, STAINLESS STEEL |
| .0797B | 11" ACRYLIC REPLACEMENT MIRROR HEAD, BLACK |
| .0797W | 11" ACRYLIC REPLACEMENT MIRROR HEAD, WHITE |
| .0797SSP | 11" LOW DOME ACRYLIC REPLACEMENT MIRROR HEAD, STAINLESS STEEL. |
| 3740B | VANGUARD REAR TRIPOD MOUNT, 8" LOW DOME, ACRYLIC, BLACK, FOR DODGE, FORD, and PRE '97 GM |
| 3740W | VANGUARD REAR TRIPOD MOUNT, 8" LOW DOME, ACRYLIC, WHITE, FOR DODGE, FORD, and PRE '97 GM |
| 3740SSP | VANGUARD, REAR TRIPOD MOUNT, 8" LOW DOME, ACRYLIC, STAINLESS STEEL, FOR DODGE, FORD, and PRE '97 GM |
| 3741B | VANGUARD REAR TRIPOD MOUNT, 8" LOW DOME, ACRYLIC, BLACK, FOR POST '97 GM |
| 3741W | VANGUARD REAR TRIPOD MOUNT, 8" LOW DOME, ACRYLIC, WHITE, FOR POST '97 GM |
| 3741SSP | VANGUARD REAR TRIPOD MT., 8" LD., ACRYLIC, STAINLESS STEEL, FOR POST '97 GM |
| 3797B | WALK IN TRUCK REAR MOUNT, 11" LOW DOME, ACRYLIC, BLACK |
| 3797W | WALK IN TRUCK REAR MOUNT, 11" LOW DOME, ACRYLIC, WHITE |
| 3797SSP | WALK IN TRUCK REAR MOUNT, 11" LOW DOME, ACRYLIC, STAINLESS STEEL |
| 3798SSP | WALK IN TRUCK REAR MOUNT, HORIZONTAL RETRACTION SWING, 11" LOW DOME ACRYLIC, STAINLESS STEEL |
| 3799SSP | WALK IN TRUCK, HIGH ARM REAR MOUNT for SWING DOORS, HORIZONTAL RETRACTION SWING, 11" LOW DOME ACRYLIC, STAINLESS STEEL |