MetroStyle®
Rosco's cost-effective and efficient rearview mirror offers a single flat lens and a maintenance-free housing.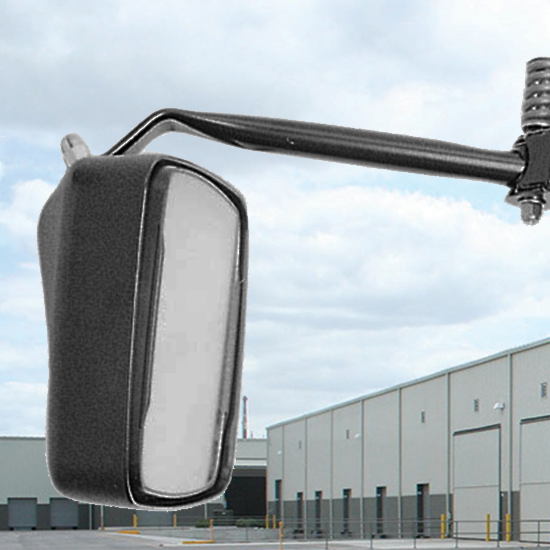 MetroStyle

Economical single flat lens in a clean, maintenance free housing with an omni-adjustable ball stud mount.
Economical ball swivel attachment allows simple retrofit on existing mounting arms.
Ball swivel allows maximum adjustment.
Aerodynamic design enhances overall appearance of bus.
Broad usage includes OEM's and aftermarket.
Available in 12 and 24 volt, heated or unheated.
9"x9" housing designed to utilize transit industry standard 8"x8" flat mirror glass.
| MetroStyle® 9 x 9 MIRRORS | |
| --- | --- |
| PART | NO DESCRIPTION |
| 990 | 9" x 9" single mirror, upright mount, 12 or 24 volt motorized. |
| 990OG | 9" x 9" single mirror, overhang mount, 12 or 24 volt motorized. |
| 990L | 9" x 9" single mirror, left hand mount, 12 or 24 volt motorized. |
| 990R | 9" x 9" single mirror, right hand mount, 12 or 24 volt motorized. |
| M990 | 9" x 9" single mirror, hand adjustable. |
| 990P | 9" x 9" single mirror, upright mount, 12 or 24 volt motorized. With 6" x 4" "Piggy-Back" convex mirror. |
| 990POG | 9" x 9" single mirror, overhang mount, 12 or 24 volt motorized. With 6" x 4" "Piggy-Back" convex mirror. |
| M990P | 9" x 9" single mirror, hand adjustable. With 6" x 4" "Piggy-Back" convex mirror. |
| 990/1 | 8" x 8" flat mirror glass. |
| 990/4 | 8" x 8" flat mirror carrier and motor assembly. |
| M990/4 | 8" x 8" flat mirror carrier and hand swivel assembly. |
| 64P | 7" x 5" "Piggy-Back" convex mirror assembly. |
| 64P/1 | 7" x 5" convex mirror glass. |
| 64P/4 | 7" x 5" "Piggy-Back" convex mirror carrier and hand swivel assembly. |