Interior Mirrors
Every shape and size available in both flat and convex lenses.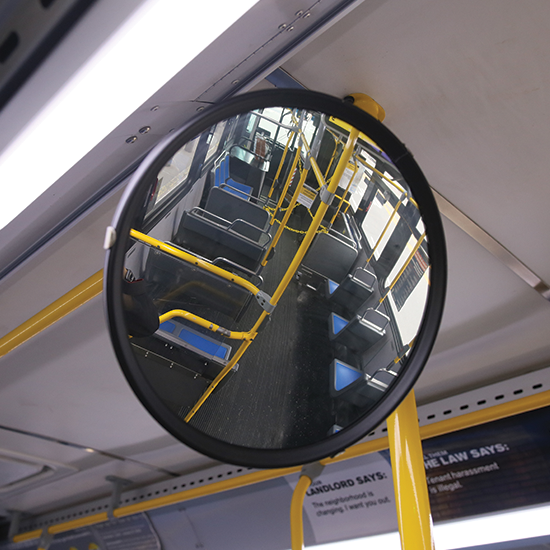 12" diameter convex rear step well mirror with stanchion mount and 63 degree arm, P/N 362R + 365R/SM (mirror and bracket assembly)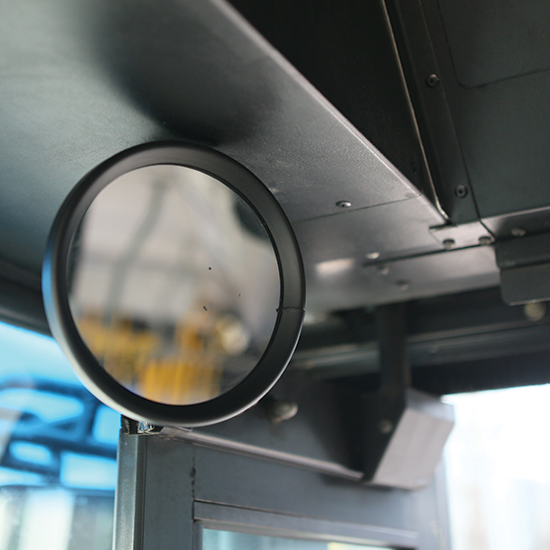 Rosco interior bus and truck mirrors offer a wide selection of product supported by numerous lens options and mounting solutions to make interior vehicle safety a top priority. Ranging from a 10" x 30" flat lens mirror with safety glass, to a 5" convex lens mirror with ball stud mount, Rosco has the correct mirror for your application. Options to consider are safety glass, non-glare glass, acrylic lenses, tamper proof fasteners, stanchion and ceiling mounts, and an assortment of brackets ranging from simple up/down pivots, to brackets allowing multi directional movement of mirrors with ball studs.
| Interior Mirrors | |
| --- | --- |
| PART NO | DESCRIPTION |
| BAS3001 | Mounting Bracket for 5" or 6" Mirrors with 90 Degree Bend and Two Hole Pattern |
| BAS3122 | Mounting Bracket with Z Offset of 3/4" and Two Hole Pattern |
| PR48 | 4"x8" Convex Rectangular Mirror w/Ball Stud Mount |
| 153/BKT | Mounting Bracket with Z Offset of 2" for Universal Applications or Wall Mounting |
| 350 | 5" Flat Round Mirror Head Only, 97-3445-1 |
| 350D | 5" Convex Round Mirror Head Only, F97-5924-1 |
| 350RTS | 5" Flat Round Mirror Complete with Bracket, GMC No.2001657 |
| 350RTS/BKT | Mounting bracket for 5" or 6" mirrors with 70 degree bend and two hole pattern |
| 350RTSSG | 5" Flat Round Mirror, Safety Glass, Complete with Bracket, GMC No.2001657 |
| 355 | 6" Flat Round Mirror Complete with Bracket, GMC No. 2159608, 97-7046-1 |
| 355D | 6" Convex Round Mirror Complete with Bracket |
| 362R | 12" Convex (Dim) Mirror Head w/Replaceable Glass GMC No.2487160, 97-5532-01 |
| 362R/CM | Bracket Only for Ceiling Mount, GMC No.2254189 |
| 362R/SM | Stanchion MT with Straight Arm for 12" Rear Door Mirror |
| 62R+362R/SM | Assembly with 362R+362R/SM in Common Box |
| 362R+365R/SM | Assembly with 362R+365R/SM in Common Box |
| 362RSG | 12 Convex (Dim) Mirror Head with Safety Glass, 50-11574-002,00169502 |
| 362RTS | 12" Convex (Dim) Mirror Head w/Replaceable Glass, Tamper Resistant Screws |
| 365R | 11" Convex Mirror Head w/Replaceable Glass, GMC RTS No.2066380, 2072074 |
| 365R/SM | Stanchion Mount with 63 Degree Angle Arm for GMC, RTS No.2072176 |
| 365R+365R/SM | Assembly with 365R+365R/SM in Common Box |
| 365RTS | 11" Convex Mirror Head w/Replaceable Glass, Tamper Resistant Screws |
| 416 | 4"x16 Inside Rear View Mirror with Safety Glass, GMC No.691316, 97-4178-1 |
| 416/BKT | Mounting Bracket for 416 Inside Rear View Mirror (High Offset) |
| 416FLX | 4" x 16" Inside Rear View Mirror w/Safety Glass, Flexible Buses #91-56-6150 |
| 416OF | 4"x16" Inside Rear View Mirror with Safety Glass, Offset Stud |
| 416RTS | 4"x16" Inside Rear View Mirror with Safety Glass for RTS Bus, GMC No. 2001651 |
| 416RTS/BKT | Mounting Bracket for 416RT5 Inside Rear View Mirror, No.2009694 (Low Offset) |
| 500B | Mounting Bracket for Telescoping Mirror Arms |
| 501D | 5 Convex Mirror Head with Ball Stud |
| 501D/543 | Assembly with 501D mirror and 543 Bracket in Common Box |
| 505D | 5" Convex Mirror w/Arm and Clamp |
| 516 | 4-5/8"x16 Inside Rear View Mirror with Safety Glass, Replaceable Glass |
| 516/BKT | Mounting BKT for No. 516 Inside Rear View Mirror |
| 530 | 6"x16" Inside Rear View Mirror, Flat, w/Safety Glass and Bracket |
| 530D | 6"x16" Inside Rear View Mirror, Convex, w/Safety Glass and Bracket |
| 554DSS | 4"x5-1/2" Convex Mirror, Stainless Steel, 97-8274-00001 |
| 601D | 6" Round Mirror Head, Convex (Diminishing) Glass, 3G-22-61, 0011520523, 97-9323 |
| 601DOF | 6" Round Mirror Head Off Center Ball Stud, Convex (Diminishing) Glass, 97-9999-02499 |
| 601DOFSS | 6 Round Mirror Head Off Center Ball Stud, Convex Glass, Stainless Steel Back |
| 601F | 6" Round Mirror Head, Flat Glass, FLX 71-117-4, 97-3445-1, 71-183-1 |
| 601F/BAS3001 | Assembly of 601F and BAS3001 bracket in common box |
| 601F+350RTS/BKT | Assembly of 601F and 350RTS/BKT in common box |
| 601FSG | 6" Round Mirror Head, Flat Safety Glass |
| 601FSG/BAS3001 | Assembly of 601FSG and BAS3001 bracket in common box |
| 601OF | 6" Round Mirror Head, Flat Glass, Off Center Ball Stud |
| 601OF/BAS3001 | Assembly of 601OF and BAS3001 bracket in common box |
| 601OFSG/BAS3001 | Assembly of 601OFSG and BAS3001 bracket in common box |
| 609D | 6"x9" Entrance Door Convex Mirror for RTS, GMC No.15503033, 03-06-1002 |
| 609DSG | 6'x9 Entrance Door Convex Mirror, Safety Glass, 051690520, 03-06-1002 |
| 616INT | 6x16 Interior Mirror |
| 616INT/BKT | Mounting Bracket for 616INT Mirror |
| 630 | 6" x 30" Flat Mirror w/Safety Glass, Padded Edge, Black |
| 362R/1 | 12" Convex Replacement Glass, GMC No.2287181 |
| 365R/1 | 11" Convex Replacement Glass, GMC No. 2009907 |
| 416/1 | Replacement. Glass (3/16). Also fits 416RTS & 416-870, GMC No.69493010, 15533349 |
| 516/1 | Replacement Glass, Safety Glass (3/16) Flat GMC No. 666924 FLX 71-118-142 |
| 601D/1 | 6" Round Convex Replacement Glass |
| 710 | 7"x10" Entrance Door Convex Mirror w/Mounting, GMC No.2393334, 99-9999-01710, G10507794 |
| 710/1 | Replacement Glass, Convex-GMC No.2435712 |
| 710LBKT | Same as 710, Long Brackets, Safety Glass, 011692505 |
| 710SG | 7x10 Entrance Door Convex Mirror w/Mounting, Safety Glass, 55-11803-001 |
| 716INT | 7"X16" Interior Mirror with Safety Glass |
| 801D | 8" Round Mirror Head, Convex (Diminishing) Glass |
| 801DOF | 8" Round Mirror Head, Offset Ball Stud, Convex (Diminishing) Glass |
| 801DOFSS | 8" Round Mirror Head, Offset Ball Stud, Convex (Diminishing) Glass, Stainless Steel Back |
| 801DP | 8" Round Mirror Head, Deep Dome Acrylic Convex Lens |
| 801DPOF | 8" Round Mirror Head, Deep Dome Acrylic Convex Lens w/Off-set Ball Stud |
| 801DSS | 8" Round Mirror Head, Convex (Diminishing) Glass, Stainless Steel Back |
| 801LDP | 8" Round Mirror Head, Low Dome Acrylic Convex Lens |
| 801LDPOF | 8" Round Mirror Head, Low Dome Acrylic Convex Lens w/Off-set Ball Stud |
| 1001D | 10" Round Mirror Head, Low Dome Acrylic Convex Lens |
| 805D | 8" Round Clamp on Spot Mirror, Convex Glass |