IntegraStyle®
The unique, first of its kind three lens mirror system, IntegraStyle®, is a modern aerodynamic mirror system that protects any vehicle with multiple views.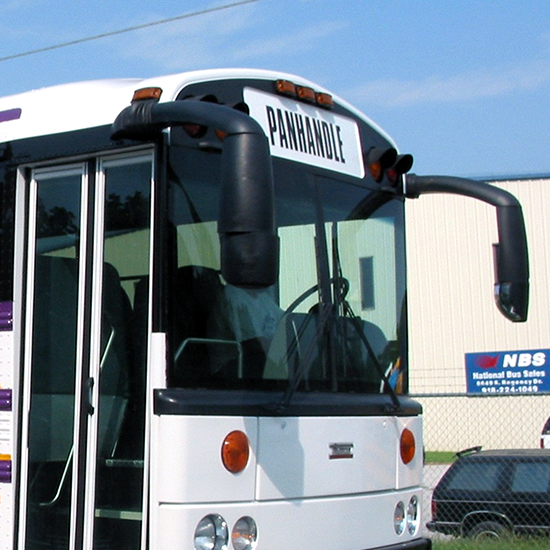 The development of the IntegraStyle® concept came from a need for a modern aerodynamic mirror system to complement the appearance and performance of buses.
New, modern design compliments the aerodynamic characteristic of the vehicle.
No visible fasteners or wires.
Reduced maintenance required (fewer components due to integration of all 3 lenses in a single mirror head).
Highly reliable construction tested under extreme road and weather conditions.
Rigid structure prevents vibrations.
Housing made from heavy-duty A.S.A. injection molded resin.
Flat and convex mirrors are separately four-way motorized and heated with manually-adjusted units also available.
Break-away mechanism allows mirror head to "fold" upon collision with an obstacle, avoiding costly repairs.
| Complete Assembly | |
| --- | --- |
| PART NO | DESCRIPTION |
| 32A2F41CCP | Integrated mirror system with crossview and rearview sections. Hand adjustable. Driver and passenger sides. |
| 32A2F42CCP | Integrated mirror system with crossview and rearview sections. Hand adjustable. Heated driver and passenger sides. |
| 32A2F41BBP | Integrated mirror system with crossview and rearview sections. Motorized. Driver and passenger sides. |
| 32A2F42BBP | Integrated mirror system with crossview and rearview sections. Motorized. Heated driver and passenger sides. |
| 32A2KE1CCP | Integrated mirror system with crossview and rearview sections. Hand adjustable driver and passenger sides. Canadian specifications. |
| 32A2KE2CCP | Integrated mirror system with crossview and rearview sections. Hand adjustable. Heated driver and passenger sides. Canadian specifications. |
| 32A2KE1BBP | Integrated mirror system with crossview and rearview sections. Motorized.Driver and passenger sides. Canadian specifications. |
| 32A2KE2BBP | Integrated mirror system with crossview and rearview sections. Motorized. Heated. Driver and passenger. |
| Hand Adjustable Non-Heated | |
| --- | --- |
| PART NO | DESCRIPTION |
| 32A2H41CCP | Integrated mirror system with crossview and rearview sections. Hand adjustable. Driver side. |
| 32A2C41CCP | Integrated mirror system with crossview and rearview sections. Hand adjustable. Passenger side. |
| M1016 | Rearview section, including flat & convex glass & carrier assemblies. Hand adjustable. |
| GLA3005 | Flat glass. |
| GLA4009 | Convex glass |
| CAR5002 | Flat carrier assembly. Hand adjustable. |
| CAR5003 | Convex carrier assembly. Hand adjustable. |
| Hand Adjustable Heated | |
| --- | --- |
| PART NO | DESCRIPTION |
| 32A2H42CCP | Integrated mirror system with crossview and rearview sections. Hand adjustable. Heated. Driver side. |
| 32A2C42CCP | Integrated mirror system with crossview and rearview sections. Hand adjustable. Heated. Passenger side. |
| M1016H | Rearview section, including flat & convex glass & carrier assemblies. Hand adjustable. Heated. |
| GLH6001 | Flat glass. Heated |
| GLH6501 | Convex glass. Heated. |
| CAR5002 | Flat carrier assembly. Hand adjustable. |
| CAR5003 | Convex carrier assembly. Hand adjustable. |
| HAR2015 | Wire harness for heated mirror assembly. |
| Motorized Non-Heated | |
| --- | --- |
| PART NO | DESCRIPTION |
| 32A2H41BBP | Integrated mirror system with crossview and rearview sections. Motorized. Driver side. |
| 32A2C41BBP | Integrated mirror system with crossview and rearview sections. Motorized. Passenger side. |
| 1016 | Rearview section, including flat & convex glass & carrier assemblies. Motorized. |
| GLA3005 | Flat glass. |
| GLA4009 | Convex glass. |
| CAR5005 | Flat carrier assembly. Motorized. |
| CAR5004 | Convex carrier assembly. Motorized. |
| HAR2013 | Wire harness for motorized mirror assembly. |
| Motorized Heated | |
| --- | --- |
| PART NO | DESCRIPTION |
| 32A2H42BBP | Integrated mirror system with crossview and rearview sections. Motorized. Heated. Driver side. |
| 32A2C42BBP | Integrated mirror system with crossview and rearview sections. Motorized. Heated. Passenger side |
| 1016H | Rearview section, including flat & convex glass & carrier assemblies. Motorized. Heated. |
| GLH6001 | Flat glass. Heated. |
| GLH6501 | Convex glass. Heated. |
| CAR5005 | Flat carrier assembly. Motorized |
| CAR5004 | Convex carrier assembly. Motorized. |
| HAR2012 | Wire harness for motorized heated mirror assembly |
| Crossview | |
| --- | --- |
| PART NO | DESCRIPTION |
| 3490 | Crossview mirror assembly |
| 3490H | Crossview mirror assembly. Heated. |
| 3490/1 | Crossview lens. |
| 3490/H/1 | Crossview lens. Heated. |
| RIM 1046 | Mounting gasket for crossview lens. |
| Mirror Arm | |
| --- | --- |
| PART NO | DESCRIPTION |
| ASY4401 | Arm assembly. Driver side. |
| ASY4402 | Arm assembly. Passenger side. |
| ASY4475 | Arm cover kit. |
| ASY4450 | Cap-boot assembly. Driver side. |
| ASY4451 | Cap-boot assembly. Passenger side. |