Eye-Max®
Utilizing a revolutionary asymmetrical shaped mirror lens, the Eye-Max® LP is Rosco's most popular crossview mirror line.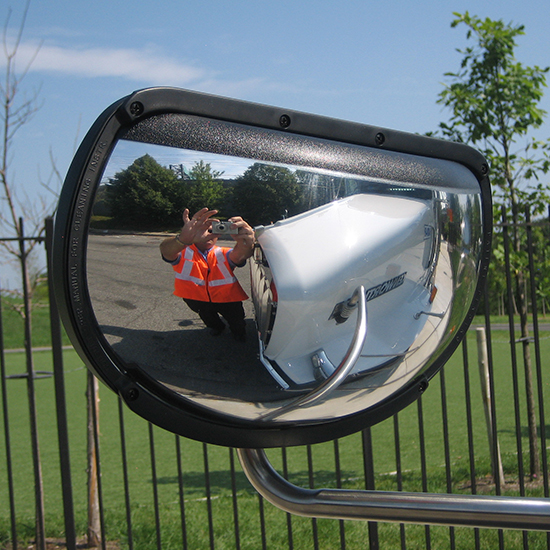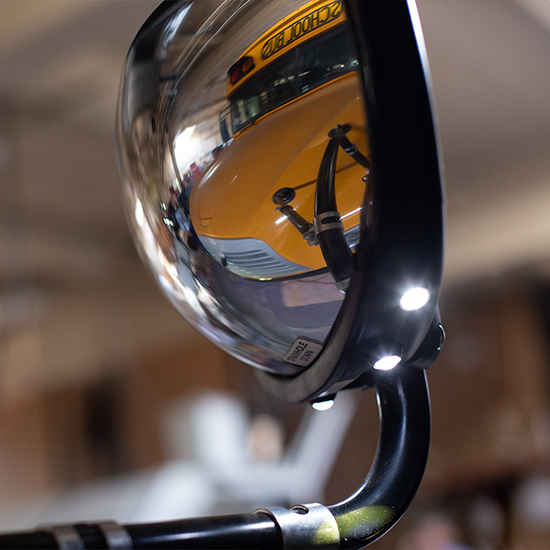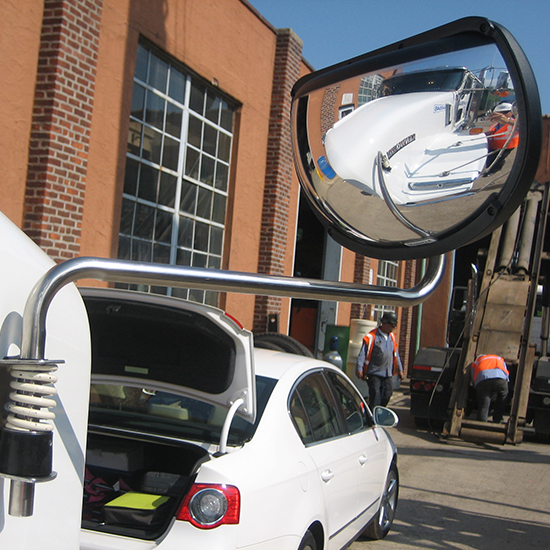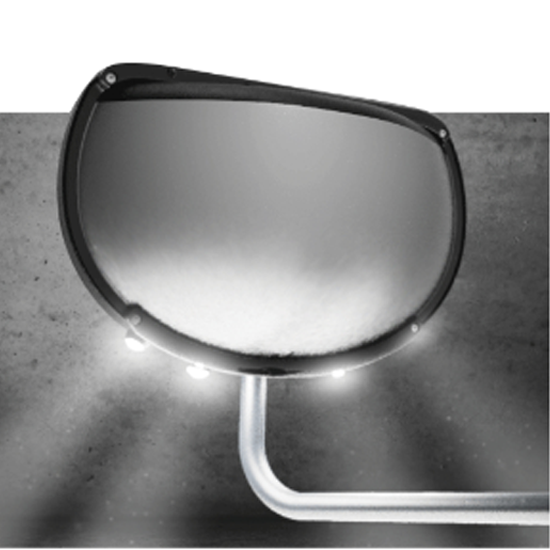 Eye-Max® LED down lit crossview mirror




Asymmetric Cross View Mirror System
The Eye-Max® represents the next step in the evolution of cross view mirrors. It improves on the performance of the already successful Hawk-Eye® and Mini-Hawk-Eye® mirrors which have been the "Workhorses" of the school bus industry for the past fifteen years. The novelty of the Eye-Max® is the revolutionary asymmetric shape of its mirror lens. Different sections throughout the mirror yield optimum viewing parameters for specific danger zones around the bus. These asymmetric mirror divisions are designed to increase image-size and coverage in all areas around the bus.
Enhanced definition (larger image) of passengers passing through the danger zones around a school bus
Lower profile reduces forward blind spots
Enhanced coverage of dangerous passing traffic on driver side during load and unload stops
Surpasses System "B" mirror requirements per FMVSS-111
On July 18th 2011, New York Governor Andrew M. Cuomo signed a law that requires convex/cross view mirrors to be placed on the front of large

trucks being driven in New York City and other NYS cities with a population of 1,000,000+. The new law is designed to eliminate blind spots directly in front of large vehicles which have conventional full front hoods. Under the law, all large trucks registered in New York State with a maximum gross weight of 26,000 pounds and higher are required to be equipped with a convex mirror positioned in front of the bumper to see targets 12" away, 36" above the ground, and across the full width of the vehicle.
The Eye-Max® LP Cross View Mirror System fulfills the New York State law requirement and much more. The asymmetric design of this unique mirror lens provides the driver with optimal views of specific danger zones in front of, and around the vehicle. The reflected images in the Eye-Max® LP Mirror System provide up to a 33% increase in image size. One mirror mounted to the front left or right side of the hood is all that is needed to comply with the law. Although the mirror head comes standard with a shatterproof acrylic convex lens, Rebound®auto return technology allows the mirror assembly to move out of harm's way when the mirror head or arm is struck, and return automatically back to the original position thus "rebounding" back in place. This innovative breakaway feature helps prevent expensive hood damage when mirrors are hit, will reduce mirror maintenance, and most certainly will keep the mirror in the right place for effectiveness and full legal compliance.
| Eye-Max® Mirrors for Trucks | |
| --- | --- |
| PART NO | DESCRIPTION |
| ACR3003 | Eye-Max® Replacement Mirror Lens |
| 3810 | Complete Right Side Eye-Max® Assembly |
| 3811 | Complete Left Side Eye-Max® Assembly |
| 3810LED | Complete Right Side Eye-Max® LED Assembly |
| 3811LED | Complete LeftSide Eye-Max® LED Assembly |
| 5360H | Eye-Max® Replacement Mirror Head, Heated |
| 5360 | Eye-Max® Replacement Mirror Head |
| Eye-Max® Mirrors for School Buses | |
| --- | --- |
| PART NO | DESCRIPTION |
| 5360 | Eye Max® Mirror Head only, with Tunnel Mount System |
| 5365 | Eye Max® Mirror Head only, with Ball Stud Mount System |
| 5360H | Eye Max® Mirror Head only, with Tunnel Mount System heated |
| 5360IH | Eye Max® Mirror Head only, with Tunnel Mount System heated, w/internal connector |
| 5365H | Eye Max® Mirror Head only, with Ball Stud Mount System heated |
| 5365IH | Eye Max® Mirror Head only, with Ball Stud Mount System heated, w/internal connector |