EuroStyle®
Popular in the school bus industry, the EuroStyle mirror is offered in two sizes with various options and configurations.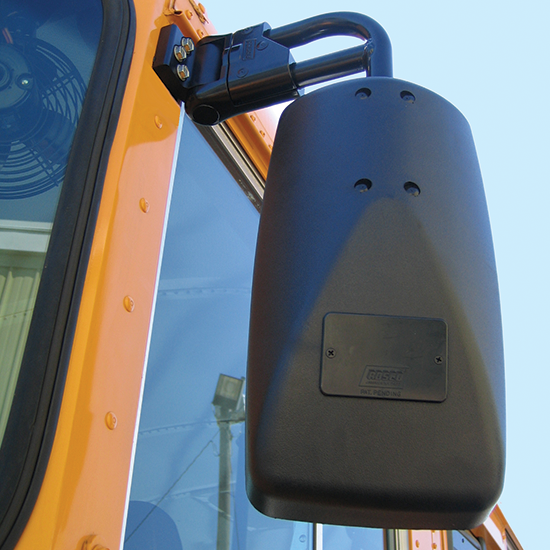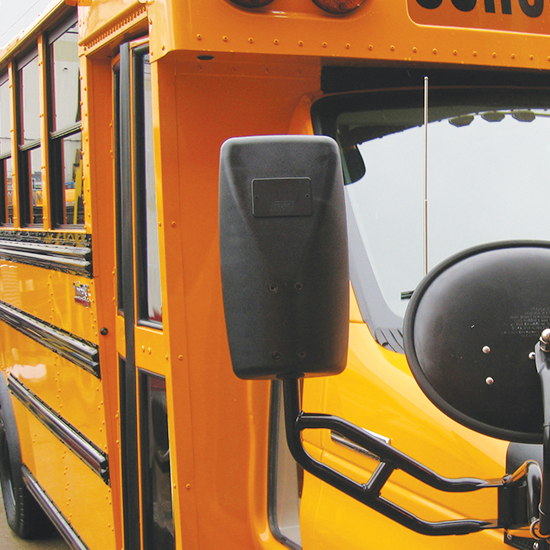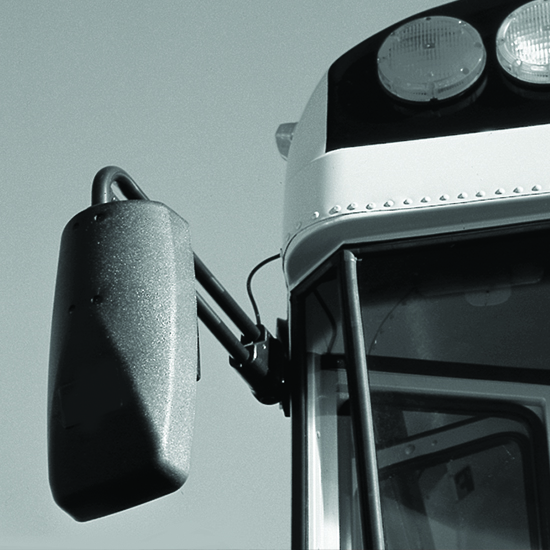 Our veteran rearview mirror in the school bus industry. Used on full size and cut-away platforms and available in all configurations and for many other industries.
Classic 8"x15" dual mirror style available in upright or overhang formation.
Utilized across many industries, from small buses to full-size coaches and trucks.
7"x9.5" flat mirror surface and 7"x4" convex mirror surface.
Available with single 7"x14" flat mirror.
Available in 12 and 24 volt, heated or unheated.
Access panel on housing allows easy electronic connection.
Wire harness is hidden in mirror housing and mounting arm.
4-way adjustable motors.
Add remote heated mirrors to existing trucks with Retrokitseries: complete kits to retrofit onto existing arms and loops, complete with easy to read instructions and all wires and switches to do a professional installation.
| EuroStyle® 8 x 15 MIRRORS | |
| --- | --- |
| PART NO | DESCRIPTION |
| 715 | 8" x 15" dual mirror, upright mount, 12 or 24 volt motorized. |
| 715OG | 8" x 15" dual mirror, overhang mount, 12 or 24 volt motorized. |
| 715T | 8" x 15" dual mirror, two point mount, 12 or 24 volt motorized. |
| M715 | 8" x 15" dual mirror, upright mount, hand adjustable. |
| M715OG | 8" x 15" dual mirror, overhang mount, hand adjustable. |
| M715T | 8" x 15" dual mirror, two point mount, hand adjustable. |
| 715F | 8" x 15" single mirror with 7" x 14" flat glass, upright mount, 12 or 24 volt motorized. |
| 715FOG | 8" x 15" single mirror with 7" x 14" flat glass, overhang mount, 12 or 24 volt motorized. |
| 715COG | 8" x 15" full convex mirror, overhang mount, 12 or 24 volt motorized. |
| 715FCOG | 8" x 15" single mirror with 7" x 14" convex glass, overhang mount, 12 or 24 volt motorized. |
| 715FC | 8" x 15" single mirror with 7" x 14" convex glass, upright mount, 12 or 24 volt motorized. |
| 715FT | 8" x 15" single mirror with 7" x 14" flat glass, two point mount, 12 or 24 volt motorized. |
| M715F | 8" x 15" single mirror with 7" x 14" flat glass, hand adjustable. |
| M715FT | 8" x 15" single mirror with 7" x 14" flat glass, two point mount, hand adjustable. |
| M715COG | 8" x 15" full convex mirror, upright mount, hand adjustable. |
| 715SL | 8" x 15" dual mirror. Upright mount, 12 volt with Left signal LEDs. |
| 715SR | 8" x 15" dual mirror. Upright mount, 12 volt with Right signal LEDs. |
| 715SLOG | 8" x 15" dual mirror. Overhang mount, 12 volt with Left signal LEDs. |
| 715SROG | 8" x 15" dual mirror. Overhang mount, 12 volt with Right signal LEDs. |
| 715/1 | 7" x 9.5" flat mirror glass. |
| 715C/1 | 7" x 9.5" convex mirror glass. |
| 715D/1 | 7" x 4" convex mirror glass. |
| 715F/1 | 7" x 14" flat mirror glass. |
| 715FC/1 | 7" x 14" convex mirror glass. |
| 715SL/1 | 7" x 9.5" flat mirror glass with Left signal LEDs. |
| 715SR/1 | 7" x 9.5" flat mirror glass with Right signal LEDs. |
| 715/4 | 7" x 9.5" flat mirror carrier and motor assembly. |
| 715D/4 | 7" x 4" convex mirror carrier and motor assembly. |
| 715F/4 | 7" x 14" flat or convex mirror carrier and motor assembly. |
| M715/4 | 7" x 9.5" flat mirror carrier and hand swivel assembly. |
| M715D/4 | 7" x 4" convex mirror carrier and hand swivel assembly. |
| M715F/4 | 7" x 14" flat or convex mirror carrier and hand swivel assembly. |
| 64P | 7" x 5" "Piggy-Back" convex mirror assembly. |
| 64P/1 | 7" x 5" convex mirror glass. |
| 64P/4 | 7" x 5" "Piggy-Back" convex mirror carrier and hand swivel assembly. |
| CAP | Connector access panel. Available with various company logos. |
| CAP1001 | Grommet, rubber, for 1" tube (CAP1002 for 3/4" tube) |
| 715/SHELL | 715 upright housing (includes internal spine/clamps) |
| 715OG/SHELL | 715 overhang housing (includes internal spine/clamps) |
| EuroStyle® 8 x 17 MIRRORS | |
| --- | --- |
| PART NO | DESCRIPTION |
| 717 | 8" x 17" dual mirror, 7" x 9.5" flat glass, 7" x 6" convex glass, upright mount, 12 or 24 volt motorized. |
| 717OG | 8" x 17" dual mirror, 7" x 9.5" flat glass, 7" x 6" convex glass, overhang mount, 12 or 24 volt motorized. |
| M717 | 8" x 17" dual mirror, 7" x 9.5" flat glass, 7" x 6" convex glass, upright mount, hand adjustable. |
| M717OG | 8" x 17" dual mirror, 7" x 9.5" flat glass, 7" x 6" convex glass, overhang mount, hand adjustable. |
| 717SL | 8" x 17" dual mirror, 7" x 9.5" flat glass, 7" x 6" convex glass, upright mount, 12 volt with Left signal LEDs. |
| 717SP | 8" x 17" dual mirror, 7" x 11.5" flat glass, 7" x 4" convex glass, upright mount, 12 or 24 volt motorized. |
| 717SP | 8" x 17" dual mirror, 7" x 11.5" flat glass, 7" x 4" convex glass, upright mount, 12 or 24 volt motorized. |
| 717SR | 8" x 17" dual mirror, 7" x 9.5" flat glass, 7" x 6" convex glass, upright mount, 12 volt with Right signal LEDs. |
| 717SLOG | 8" x 17" dual mirror, 7" x 9.5" flat glass, 7" x 6" convex glass, overhang mount, 12 volt with Left signal LEDs. |
| 717SPOG | 8" x 17" dual mirror, 7" x 11.5" flat glass, 7" x 4" convex glass, overhang mount, 12 or 24 volt motorized. |
| 717SROG | 8" x 17" dual mirror, 7" x 9.5" flat glass, 7" x 6" convex glass, overhang mount, 12 volt with Right signal LEDs. |
| M717SP | 8" x 17" dual mirror, 7" x 11.5" flat glass, 7" x 4" convex glass, upright mount, hand adjustable. |
| M717SPOG | 8" x 17" dual mirror, 7" x 11.5" flat glass, 7" x 4" convex glass, overhang mount, hand adjustable. |
| 717/1 | 7" x 9.5" flat mirror glass. |
| 717D/1 | 7" x 6" convex mirror glass. |
| 717/4 | 7" x 9.5" flat mirror carrier and motor assembly. |
| 717D/4 | 7" x 6" convex mirror carrier and motor assembly. |
| 717SP/1 | 7" x 11.5" flat mirror glass. |
| 717SPD/1 | 7" x 4" convex mirror glass. |
| 717SP/4 | 7" x 11.5" flat mirror carrier and motor assembly. |
| 717SPD/4 | 7" x 4" convex mirror carrier and motor assembly. |
| M717/4 | 7" x 9.5" flat mirror carrier and hand swivel assembly. |
| M717D/4 | 7" x 6" convex mirror carrier and hand swivel assembly. |
| M717SP/4 | 7" x 11.5" flat mirror carrier and hand swivel assembly. |
| M717SPD/4 | 7" x 4" convex mirror carrier and hand swivel assembly. |
| CAP | Connector access panel. Available with various company logos. |
| CAP1001 | Grommet, rubber, for 1" tube (CAP1002 for 3/4" tube) |
| 717/SHELL | 717 upright housing (includes internal spine/clamps) |
| 717OG/SHELL | 717 overhang housing (includes internal spine/clamps) |
| EuroStyle® 10 x 11.5 MIRRORS | |
| --- | --- |
| PART NO | DESCRIPTION |
| 1011 | 10" x 11.5" dual mirror, upright mount, 12 or 24 volt motorized. |
| 1011OG | 10" x 11.5" dual mirror, overhang mount, 12 or 24 volt motorized. |
| M1011 | 10" x 11.5" dual mirror, upright mount, hand adjustable. |
| M1011OG | 10" x 11.5" dual mirror, overhang mount, hand adjustable. |
| 1011F | 10" x 11.5" single mirror with 9" x 10.5" flat glass, upright mount, 12 or 24 volt motorized. |
| 1011FOG | 10" x 11.5" single mirror with 9" x 10.5" flat glass, overhang mount, 12 or 24 volt motorized. |
| M1011F | 10" x 11.5" single mirror with 9" x 10.5" flat glass, upright mount, hand adjustable. |
| 1011FHRTS | 10" x 11.5" single mirror with 9" x 10.5" flat glass, upright mount, 12 or 24 volt motorized, heat included, per NYCTA RTS specifications |
| 1011/1 | 9" x 6.75" flat mirror glass. |
| 1011D/1 | 9" x 3.75" convex mirror glass. |
| 1011F/1 | 9" x 10.5" flat mirror glass. |
| 1011/4 | 9" x 6.75" flat mirror carrier and motor assembly. |
| 1011D/4 | 9" x 3.75" convex mirror carrier and motor assembly. |
| 1011F/4 | 9" x 10.5" flat mirror carrier and motor assembly. |
| M1011/4 | 9" x 6.75" flat mirror carrier and hand swivel assembly. |
| M1011D/4 | 9" x 3.75" convex mirror carrier and hand swivel assembly. |
| M1011F/4 | 9" x 10.5" flat mirror carrier and hand swivel assembly. |
| 64P | 7" x 5" "Piggy-Back" convex mirror assembly. |
| 64P/1 | 7" x 5" convex mirror glass. |
| 64P/4 | 7" x 5" "Piggy-Back" convex mirror carrier and hand swivel assembly. |
| CAP | Connector access panel. Available with various company logos. |
| CAP1001 | Grommet, rubber, for 1" tube (CAP1002 for 3/4" tube) |
| 1011/SHELL | 1011 upright housing (includes internal spine/clamps) |
| 1011OG/SHELL | 1011 overhang housing (includes internal spine/clamps) |
| EuroStyle® 10 x 13 MIRRORS | |
| --- | --- |
| PART NO | DESCRIPTION |
| 1013 | 10" x 13.5" dual mirror, upright mount, 12 or 24 volt motorized. |
| 1013OG | 10" x 13.5" dual mirror, overhang mount, 12 or 24 volt motorized. |
| M1013 | 10" x 13.5" dual mirror, upright mount, hand adjustable. |
| M1013OG | 10" x 13.5" dual mirror, overhang mount, hand adjustable. |
| 1013F | 10" x 13.5" single mirror with 9" x 12.5" flat glass, upright mount, 12 or 24 volt motorized. |
| 1013FOG | 10" x 13.5" single mirror with 9" x 12.5" flat glass, overhang mount, 12 or 24 volt motorized. |
| M1013F | 10" x 13.5" single mirror with 9" x 12.5" flat glass, upright mount, hand adjustable. |
| 1013FP | 10" x 13.5" single mirror with 9" x 12.5" flat glass, upright mount, 12 or 24 volt motorized. With "Piggy-Back" 6" x 4" convex mirror. |
| M1013FP | 10" x 13.5" single mirror with 9" x 12.5" flat glass, hand adjustable. With "Piggy-Back" 6" x 4" convex mirror. |
| 1013FPOG | 10" x 13.5" single mirror with 9" x 12.5" flat glass, overhang mount, 12 or 24 volt motorized. With "Piggy-Back" 6" x 4" convex mirror. |
| 1013/1 | 9" x 8.5" flat mirror glass. |
| 1013D/1 | 9" x 3.75" convex mirror glass. |
| 1013F/1 | 9" x 12.5" flat mirror glass. |
| 1013/4 | 9" x 8.5" flat mirror carrier and motor assembly. |
| 1013D/4 | 9" x 3.75" convex mirror carrier and motor assembly. |
| 1013F/4 | 9" x 12.5" flat mirror carrier and motor assembly. |
| M1013/4 | 9" x 8.5" flat mirror carrier and hand swivel assembly. |
| M1013D/4 | 9" x 3.75" convex mirror carrier and hand swivel assembly. |
| M1013F/4 | 9" x 12.5" flat mirror carrier and hand swivel assembly. |
| 64P | 7" x 5" "Piggy-Back" convex mirror assembly. |
| 64P/1 | 7" x 5" convex mirror glass. |
| 64P/4 | 7" x 5" "Piggy-Back" convex mirror carrier and hand swivel assembly. |
| CAP | Connector access panel. Available with various company logos. |
| CAP1001 | Grommet, rubber, for 1" tube (CAP1002 for 3/4" tube) |
| 1013/SHELL | 1013 upright housing (includes internal spine/clamps) |
| 1013OG/SHELL | 1013 overhang housing (includes internal spine/clamps) |