Double Nickels™
Rosco's cost effective and efficient Double Nickels systems are hand-adjustable, compact, and practical.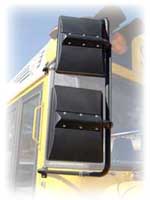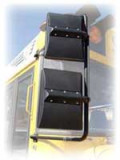 0049EHM - Black, Heated
The popular Double Nickels™system has served the industry for over 15 years with thousands of original installations still in service. This solid veteran provides a compact, hand-adjustable view to the rear and along the sides of the bus.
Other Double Nickel Options:
Four-Mirror Kits (Without Arms)
| MLC Part # | Description |
| --- | --- |
| 56-12 | 1" Unheated |
| 56-13 | 1" Heated |
| 56-14 | 3/4" Unheated |
| 56-15 | 3/4" Heated |
Replacement Parts
| MLC Part# | Description |
| --- | --- |
| 56-71 | Unheated Flat Glass |
| 56-72 | Unheated Convex |
| 56-73 | Heated Flat Glass |
| 56-74 | Heated Convex |
| 56-1 | Torsion Bar |
| 56-2 | 3/4" Post |
| 56-3 | 3/4" Cap |
| 56-4 | 1" Cap |
| 56-5 | 1" Post |
| 56-17 | Flat Glass Only |
| 56-18 | Convex Glass Only |
| 56-16-11 | Cap for Cat's Paw on Double Nickel |
| 74-4-231 | 5/15-18 x 7/8" Bolt |
| 74-171-4 | 4 Corner Clips w Screws |
| 74-231 | 5/16 x 7/8" Bolt (For Torsion Bar) |