AccuStyle® for Fire Trucks
AccuStyle, our most versatile rearview mirror system, offers a variety of options and mounting styles to suit any apparatus application.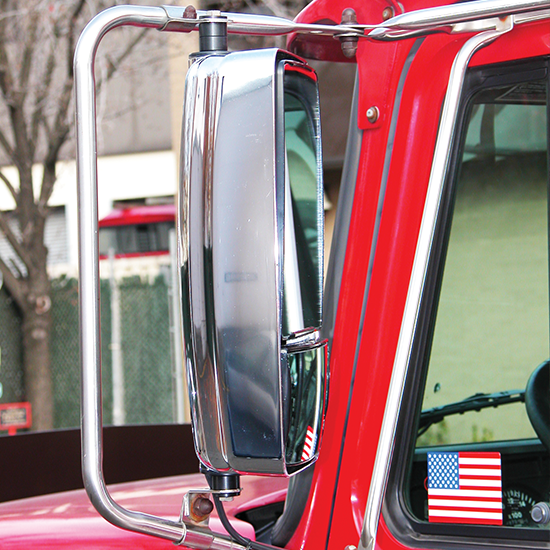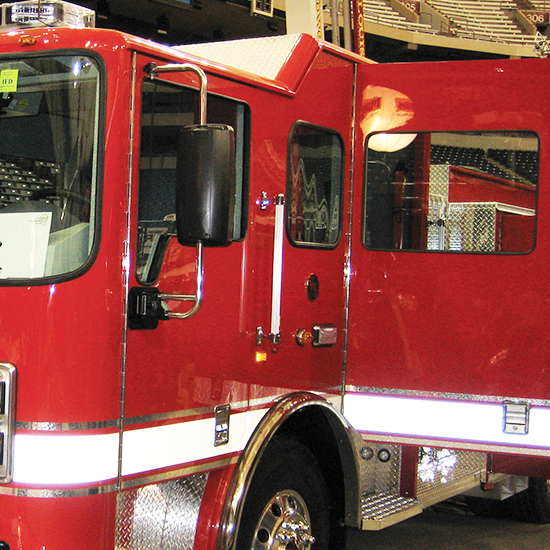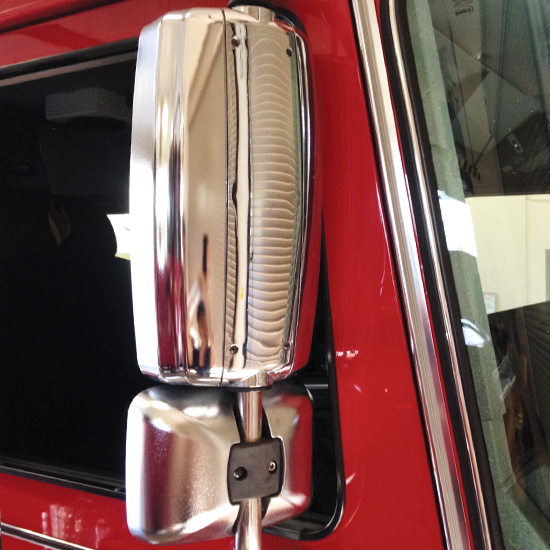 The AccuStyle® mirror is a versatile and uniquely stylized product with application in nearly every industry. The AccuStyle® mirror head can be mounted on mirror arms which are 3/4" O.D. tube up through 1-1/8" O.D. tube via the removable clamp cover on the back of the mirror shell – making OEM installation as well as aftermarket retrofit a breeze. The AccuStyle® mirror can be mounted on a traditional arm or "loop" (two point mount), or can be a single point overhang or upright mount. Finishes are available in black and chrome.
| AccuStyle® UNIVERSAL 8x15 MIRRORS | |
| --- | --- |
| PART NO | DESCRIPTION |
| 815 | 8" x 15" dual mirror, two point mount, motorized, 12 or 24 volt |
| 815OG | 8" x 15" dual mirror, overhang mount, motorized, 12 or 24 volt |
| 815U | 8" x 15" dual mirror, upright mount, motorized, 12 or 24 volt |
| M815 | 8" x 15" dual mirror, two point mount, hand adjustable |
| M815OG | 8" x 15" dual mirror, overhang mount, hand adjustable |
| M815U | 8" x 15" dual mirror, upright mount, hand adjustable |
| 815F | 8" x 15" single mirror w/7"x14" flat glass, two point mount, motorized, 12 or 24 volt |
| 815FOG | 8" x 15" single mirror w/7"x14" flat glass, overhang mount, motorized, 12 or 24 volt |
| 815FCOG | 8" x 15" single mirror w/7"x14" convex glass, overhang mount, motorized, 12 or 24 volt |
| 815FC | 8" x 15" single mirror w/7"x14" convex glass, two point mount, motorized, 12 or 24 volt |
| 815FU | 8" x 15" single mirror w/7"x14" flat glass, upright mount, motorized, 12 or 24 volt |
| 815FCU | 8" x 15" single mirror w/7"x14" convex glass, upright mount, motorized, 12 or 24 volt |
| M815F | 8"x15" single mirror w/7"x14" flat glass, two point mount, hand adjustable |
| M815FOG | 8"x15" single mirror w/7"x14" flat glass, overhang mount, hand adjustable |
| M815FU | 8"x15" single mirror w/7"x14" flat glass, upright mount, hand adjustable |
| 815SL | 8"x15" dual mirror, two point mount, motorized 12v w/Left signal LEDs |
| 815SR | 8"x15" dual mirror, two point mt., motorized 12v w/Right signal LEDs |
| 815SLU | 8"x15" dual mirror, upright mount, motorized 12v w/Left signal LEDs |
| 815SRU | 8"x15" dual mirror, upright mount, motorized 12v w/Right signal LEDs |
| 815SLOG | 8"x15" dual mirror, overhang mount, motorized 12v w/Left signal LEDs |
| 815SROG | 8"x15" dual mirror, overhang mount, motorized 12v w/Right signal LEDs |
| 815/1 | 7" x 9.5" flat mirror glass. |
| 815C/1 | 7" x 9.5" convex mirror glass. |
| 815D/1 | 7" x 4" convex mirror glass. |
| 815F/1 | 7" x 14" flat mirror glass. |
| 815FC/1 | 7" x 14" convex mirror glass. |
| 815SL/1 | 7" x 9.5" flat mirror glass with Left signal LEDs. |
| 815SR/1 | 7" x 9.5" flat mirror glass with Right signal LEDs. |
| 815/4 | 7" x 9.5" flat mirror carrier and motor assembly. |
| 815D/4 | 7" x 4" convex mirror carrier and motor assembly. |
| 815F/4 | 7" x 14" flat or convex mirror carrier and motor assembly. |
| M815/4 | 7" x 9.5" flat mirror carrier and hand swivel assembly. |
| M815D/4 | 7" x 4" convex mirror carrier and hand swivel assembly. |
| M815F/4 | 7" x 14" flat or convex mirror carrier and hand swivel assembly. |
| CAP1034 | Grommet, rubber, for 1" tube, no harness hole |
| CAP1042 | Rear access cover for 815 mirror head, two point mount |
| CAP1044 | Grommet, rubber, for 1" tube, harness hole |
| CAP1045 | Grommet, rubber, for 3/4" tube, harness hole |
| CAP1056 | Rear access cover for 815 mirror head, overhang or upright mt. |
| CAP1058 | Grommet, rubber, for 3/4" tube, no harness hole |
| 815/SHELL | 815 two point mount housing (includes internal spine/clamps) |
| 815OGU/SHELL | 815 overhang/upright housing (includes internal spine/clamps) |
| 818 | 8" x 17" dual mirror, two point mount, motorized, 12 or 24 volt |
| 818OG | 8" x 17" dual mirror, overhang mount, motorized, 12 or 24 volt |
| 818U | 8" x 17" dual mirror, upright mount, motorized, 12 or 24 volt |
| M818 | 8" x 17" dual mirror, two point mount, hand adjustable |
| M818OG | 8" x 17" dual mirror, overhang mount, hand adjustable |
| M818U | 8" x 17" dual mirror, upright mount, hand adjustable |
| 818F | 8" x 17" single mirror w/7"x16" flat glass, two point mount, motorized, 12 or 24 volt |
| 818FOG | 8" x 17" single mirror w/7"x16" flat glass, overhang mount, motorized, 12 or 24 volt |
| 818FU | 8" x 17" single mirror w/7"x16" flat glass, upright mount, motorized, 12 or 24 volt |
| M818F | 8"x17" single mirror w/7"x16" flat glass, two point mount, hand adjustable |
| M818FOG | 8"x17" single mirror w/7"x16" flat glass, overhang mount, hand adjustable |
| M818FU | 8"x17" single mirror w/7"x16" flat glass, upright mount, hand adjustable |
| 818FC | 8" x 17" single mirror w/7"x16" convex glass, two point mount, motorized, 12 or 24 volt |
| 818FCOG | 8" x 17" single mirror w/7"x16" convex glass, overhang mount, motorized, 12 or 24 volt |
| 818FCU | 8" x 17" single mirror w/7"x16" convex glass, upright mount, motorized, 12 or 24 volt |
| 818FCU | 818SL 8"x17" dual mirror, two point mount, motorized 12v w/Left signal LEDs |
| 818SLOG | 8"x17" dual mirror, overhang mount, motorized 12v w/Left signal LEDs |
| 818SLU | 8"x17" dual mirror, upright mount, motorized 12v w/Left signal LEDs |
| 818SR | 8"x17" dual mirror, two point mt., motorized 12v w/Right signal LEDs |
| 818SROG | 8"x17" dual mirror, overhang mount, motorized 12v w/Right signal LEDs |
| 818SRU | 8"x17" dual mirror, upright mount, motorized 12v w/Right signal LEDs |
| 818/1 | 7" x 9.5" flat mirror glass. 818C/1 7" x 9.5" convex mirror glass. |
| 818D/1 | 7" x 6" convex mirror glass. 818F/1 7" x 16" flat mirror glass. |
| 818FC/1 | 7" x 16" convex mirror glass. |
| 818SL/1 | 7" x 9.5" flat mirror glass with Left signal LEDs. |
| 818SR/1 | 7" x 9.5" flat mirror glass with Right signal LEDs. |
| 818/4 | 7" x 9.5" flat mirror carrier and motor assembly. |
| 818D/4 | 7" x 6" convex mirror carrier and motor assembly. |
| 818F/4 | 7" x 16" flat or convex mirror carrier and motor assembly. |
| M818/4 | 7" x 9.5" flat mirror carrier and hand swivel assembly. |
| M818D/4 | 7" x 6" convex mirror carrier and hand swivel assembly. |
| M818F/4 | 7" x 16" flat or convex mirror carrier and hand swivel assembly. |
| 818/SHELL | 818 two point mount housing (includes internal spine/clamps). |
| 818OGU/SHELL | 818 overhang/upright housing (includes internal spine/clamps). |